Canal Restoration
The Canal Restoration Methodology helps the Canal Embankment Protection, Mitigate the reduction of Water Contamination, Cleaning of Water, Urban Greening, Ecological Balance & Environmental Sustainability.
Sustainable technologies to restore contaminated canals, water bodies, river embankments, solid waste management, contaminated site management, MSW dumps site restoration & greening.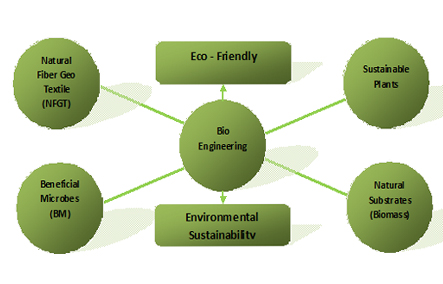 Material used for environment restoration & methodology
Jute & Coir Geo textile, Jute / Coir Biomass, Sustainable Plants, Bamboo and Beneficial Microbes (BM) isolated from Natural Sources to use in an integrated methodology through Bio-Remediation, Phyto-remediation & Bio-engineering.
All restoration materials are available in West Bengal.
Planning, Developing and Distribution of Recycled & NE Water
Main scope of services
Feasibility Studies
Site Analysis
Master plan development
Urban regeneration and rehabilitation
Roads and road network
Landscaping
Infrastructure
Engineering
Circulation and Road System Studies
Environmental Services and Permitting
Condition Surveys
Structural Restoration
Materials Research
Seismic Evaluations
Quality Assurance
Construction Management and Support
Project Management